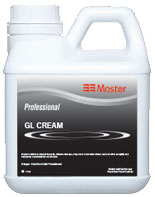 GL CREAM is a scientifically blended cream designed to remove stubborn mineral deposits, chlorine damage, soap scum, hard water stains, rust and other unsightly and hazardous accumulations on polished glass or porcelain tiles surface.
USES:
Recommended for use on polished surface, granite, porcelain, ceramic tiles, glass and mirror
COVERAGE:
Approximately 20 ft2 to 54 ft2 per 1 kg container depending on age of stains, and surface wear condition, temperature, humidity, and method of application
MAINTENANCE:
Master PH Cleaner is recommended for ongoing maintenance to remove hard water deposit build up
LIMITATIONS:
Severely damaged or deep scratches on polished surface may require professional attention or replacement. Do not allow product to come in contact with any non-recommended surface.